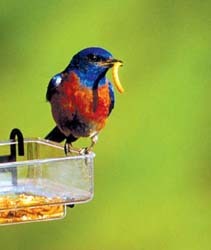 Lots of Food = Lots of Birds
In this corner: the returning champion of bird food, reliable and always filling.
In the other corner: the challengers, unique and interesting foods, such as Jim's Birdacious® Bark Butter®, mealworms, seed cylinders and suet, that will help you attract more birds to your backyard.
Created by Jim Carpenter, founder of Wild Birds Unlimited, Bark Butter is a spreadable suet that can be easily smeared on tree bark or a Bark Butter Feeder. It has attracted more than 140 different bird species.
Mealworms are a high-protein favorite of birds such as bluebirds, wrens, robins, chickadees and mockingbirds. Because mealworms can potentially crawl out of feeders, it's important to offer them in feeders with smooth sides like our Advanced Pole System® SideDish™.
Seed Cylinders add more flavor to your yard. We carry an assortment, including No-Mess, Hot Pepper, Woodpecker, Deluxe, Supreme, Nutty for Nuts®, Cranberry and Bug, Nut & Berry. They make feeding your birds easy.
Suet is a high-energy, pure fat substance that entices a multitude of birds, including insect-eaters.
Stop by and let us know what kind of birds you want at your feeders. No one has a better selection of bird food than Wild Birds Unlimited. And whether you're looking for a champ or a challenger, we'll make sure you have the food and feeders you need to make your backyard reign supreme.